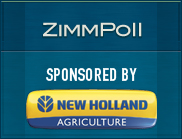 Our latest ZimmPoll asked the question, "What does sustainability mean to today's farmers?"
We may not have an easy definition of sustainability, but it is clear most of us agree that it encompasses economics, the environment and social aspects.
Here are the poll results:
Economics – 6%
Environmental – 11%
Social – 0%
All of the above – 82%
Our new ZimmPoll is now live and asks the question, Where or how do you hunt?
Fall is in the air and for much of rural America it means hunting season. Guns are being cleaned and the camo is coming out. Do you hunt on your own property, with a group, on your own or not at all. Tell us in our latest ZimmPoll.