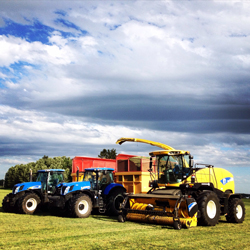 The results are in and the winners of the New Holland 1st Cut Competition have been announced. They are Les Hershey of Kirkwood, Pa., Jimmy Parker of Stringer Miss., Merlin Bontrager of Timbo, Ark., Tyler Egeland of Ossian, Iowa, David Nelson of Preston, Idaho, Vanessa Dirksen of Alma, Ontario, and Leroy Otten of Ponoka, Alberta. Pictured is Leroy Otten's entry.
The winners receive one year's use of a New Holland Roll-BeltTM 450 Silage Special Round Baler.
To enter the 1st Cut competition, farmers ages 18 and older submitted a photo of their first cutting and uploaded the photo to the 1st Cut competition website. During the voting period, the public was invited to review the photos and vote for their favorite. Over 600 photos were eligible to win the use of a Roll-Belt round baler, and seven winners were selected from across the United States and Canada.