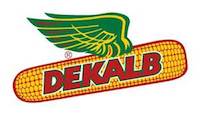 The famous "winged ear" logo of DEKALB® corn first made its debut eighty years ago and has become of the most widely-recongized symbols in agriculture.  The symbol was launched in 1935 with the slogan, "DeKalb Quality Hybrids Will Be Your Mortgage Lifter."
Now the logo will be commemorated with placement of an Illinois state historical marker at Memorial Park in DeKalb, Illinois.  The symbol has morphed over the years, but the flying ear of corn has stayed consistent.
"The DEKALB winged ear is a global symbol that represents innovation in seed technology and agricultural marketing. It has also helped make the city of DeKalb, Illinois, known around the world," said Larry Mix, DAAHA president, who also serves as Monsanto's Germplasm IP Stewardship Lead. "The DEKALB brand is recognized globally as a leading innovator, continuing to introduce advanced technologies to help farmers maximize their yield and profitability."
In addition to Mix, speakers at the historical marker dedication included Illinois State Representative Robert Pritchard, DeKalb Mayor John Rey, DeKalb Park District Board President Phil Young, Illinois State Historical Society Executive Director William Furry, Doug Roberts, the grandson of DeKalb Ag founder Tom Roberts Sr., and local DEKALB representative, Mark Delhotal.
"It is an honor to have the DEKALB winged ear logo displayed in a prominent location in the City of DeKalb, Illinois," said Mayor Rey. "Having been home to the corporate headquarters of the DeKalb Agricultural Association and successive companies, it is fitting to have this commemorative display in this community. The DEKALB winged ear continues to be known worldwide as the symbol of productivity to farmers and many city folk."
The DEKALB brand started in 1912 when a group of farmers, bankers and county officials created the DeKalb County Soil Improvement Association in DeKalb, IL.  The DeKalb Agricultural Association and its seed brand emerged over time.