Millions of visitors from around the world have been attending 2015 Expo Milano since it opened in May of this year and many of them have gotten a taste of how their food is produced, thanks to New Holland Agriculture.
The New Holland Sustainable Farm Pavilion fits in perfectly with the expo theme "Feeding the Planet, Energy for Life," featuring the latest farming technology and equipment, as well as the faces and stories of ten farmers from different countries. Nine of them were there in person last week during a special Heroes and Bloggers event.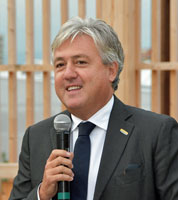 "Our heroes represent the millions of men and women all over the world who are working on the theme of the expo which is feeding the planet," said New Holland Agriculture Brand president Carlo Lambro.
Case New Holland (CNH) and parent company Fiat Chrysler invested over 25 million Euros ($28 million) in the pavilion at Expo Milano, which will conclude October 31. "We are very pleased with the return that we are getting out of the investment," Lambro said.
The pavilion highlights the increased productivity and sustainability of today's farmer, much of it through precision farming technology. "For sure, precision farming can give more return on investment and a better future for our farmers," said Lambro. "To use less fuel, to have less chemicals, less pesticides – it's really amazing."
Lambro noted the high adoption of precision farming techniques in the United States, which he saw at the recent Farm Progress Show where New Holland announced the expansion of its PLM Connect Technology.
Listen to Carlo's conversation with the bloggers here: [wpaudio url="http://traffic.libsyn.com/zimmcomm/nh-expo-15-heroes-lambro.mp3″ text="Carlo Lambro, New Holland Brand President"]