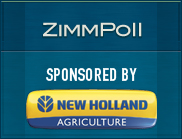 Our latest ZimmPoll asked the question, "What is most important personal issue to today's farmers?"
Consumers understanding the food sources out there seemed to rise to the top this week. But was quickly followed by farm estate transition and sustainability. We also had quite a few vote other, but didn't specify. No one can argue the passion farmers and ranchers have for the products they produce. It is not a job, it is a way of life they proudly live and their are many issues near and dear to a farmers heart.
Here are the poll results:
Consumers understanding food sources – 32%
Entry to farming – 3%
Farm estate transition – 21%
Sustainability – 21%
Understanding new technology – 13%
Other – 10%
Our new ZimmPoll is now live and asks the question, What does sustainability mean to today's farmers?
New Holland's exhibit at Expo Milano 2015 is fully centered around sustainability. However, the definition for sustainability differs depending on who you talk to. Sustainability is nothing new to the ag community. We have been demonstrating it for years, just hadn't defined it. Do you think sustainability is focused on the economic benefits, the environment, the social aspect or something completely different?