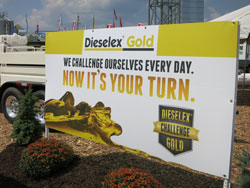 The gold standard for diesel is the fuel that powered the engines at the 2015 Farm Progress Show – as it has for many shows before.
"We're happy to do that to get our fuel in the equipment to show what it can do," said Randy Moore with the GROWMARK FS Energy Division of the Dieselex Gold brand.
"Dieselex Gold is a premium diesel fuel," says Moore. "More horsepower, cleaner burning engines, and more fuel efficient are the biggest advantages of using it."
GROWMARK FS is so confident that Dieselex® Gold is the best fuel to power and protect engines that they offer the Dieselex Gold challenge. Simply purchase Dieselex Gold and compare it to your current diesel. If it doesn't deliver superior fuel efficiency, engine starts, horsepower and more, they will reimburse you the difference in price between your fuel and ours. Click here for more details.
Listen to an interview with Randy from FPS: [wpaudio url="http://traffic.libsyn.com/zimmcomm/fps-gmk-dieselex.mp3″ text="Interview with Randy Moore, GROWMARK FS Energy"] 2015 Farm Progress Show Photo Album