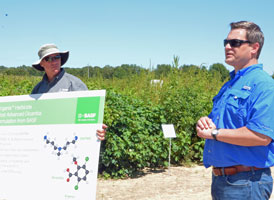 BASF Crop Protection anticipates regulatory approval for Engenia™ herbicide yet later this year, which will provide growers with the most technologically advanced dicamba formulation for control of broadleaf weeds in dicamba-tolerant crops for both soybeans and cotton.
"Like all the other dicambas BASF has made in our 50 year history, (Engenia) is a highly effective post-emergent broadleaf weed control tool," said Chad Brommer, BASF technical market manager for Engenia, during a recent media event in Tennessee. "The other great thing about Engenia is that is was designed with the BAPMA salt to be the most stable form of dicamba that we've ever produced."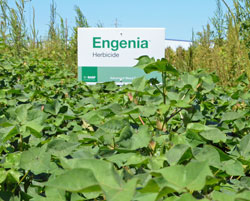 During the Tennessee event, we saw some pretty impressive field trial with Engenia combined with other herbicides to fight resistant weeds. "Engenia is part of a weed control system, which means it does not exist on its own," explained Brommer. That means starting clean with a good burndown and pre-emerge herbicide with residual, followed by an early post application with Engenia and a grass control component and a layered residual.
Brommer says they believe Engenia will be especially important in the south where pressure from resistant palmer amaranth is especially heavy. "In cotton, we're often going to have to come back maybe three times to control weeds – pre-emergent, first post, and oftentimes and second post or layby application," said Brommer. "BASF is in a unique position because we've got Prowl® H20 plus Cotoran that can be used pre-emerge, we can come back in dicamba-tolerant cotton with Engenia plus glyphosate plus Outlook herbicide, and then layby you can even come back with glufosinate or Liberty plus Zidua…now we've got a whole series of different effective sites of action."
Learn more in this interview: [wpaudio url="http://traffic.libsyn.com/zimmcomm/basf-tn-chad.mp3″ text="Interview with Chad Brommer, BASF"]