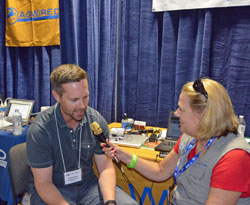 Farm Progress Show is in the Congressional district of Rep. Rodney Davis (R-IL) and he stopped by the media tent to chat when he visited the show last week.
"I'm blessed enough to represent Decatur and host this event every two years," said Davis. "You got billions of dollars of equipment sitting out here. It really shows what agribusiness and agriculture means, not only to Illinois and Iowa, but the entire Midwest and our entire national economy."
Rep. Davis talked about some of the important issues for agriculture that the House is waiting for the Senate to move on, including GMO labeling. "We passed a bill in the House that creates a GMO labeling program that's similar to organic," said Davis, who is chairman of the House Agriculture Subcommittee on Biotechnology. "Right now, it's a free for all, you don't really know what standards need to be met when you see a GMO-free label now."
Davis hopes the Senate will take up this legislation and others that the House has already passed. "I hope that Leader McConnell begins to think about implementing a process that's going to move good legislation that we've already passed and get it to the president's desk," Davis said.
Listen to my interview with Rep. Davis at Farm Progress Show – [wpaudio url="http://traffic.libsyn.com/zimmcomm/fps-davis.mp3″ text="Interview with Rep. Rodney Davis (R-IL)"]