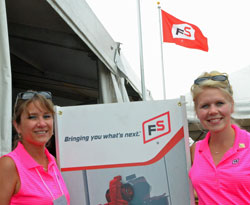 GROWMARK and the FS System are the folks who make the Farm Progress Show grow and go – so you definitely should stop by and visit them on the corner of Central and Eleventh before the show ends on Thursday afternoon.
"We are the official fuel and agronomic sponsor of the field demonstrations here," says Rachel Moore with the GROWMARK Marketing and Communications division, pictured here on the right with Bev Long, manager of that division.
Inside the exhibit, there are lots of interactive games related to the FS member companies, including grain systems, agronomy, and energy with the diesel fuel branded as Dieselex Gold. "We're doing a Dieselex Gold challenge where people can sign up for that in our booth," said Moore.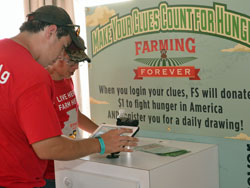 New to the exhibit this year is a way for visitors to not only have fun, but also make a difference in the local community by helping to feed those in need. "Farming Forever is a way we wanted to pair up with two food banks – Midwest Food Bank and Feeding America," said Long. "For every person that plays Farming Forever, the GROWMARK Foundation on behalf of FS Member Companies will give a dollar. We're looking for 10,000 people to come in and play, so that's $5,000 to each of those organizations."
Find out more in this interview with Rachel and Bev – and better yet, stop by and play the game so they can meet their goal! [wpaudio url="http://traffic.libsyn.com/zimmcomm/fps-gmk-exhibit.mp3″ text="Interview with Rachel Moore and Bev Long, GROWMARK"]