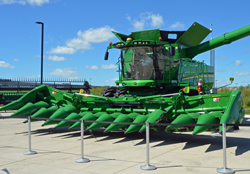 Would it be helpful to push a button in your cab and have your corn head fold up in less than 60 seconds when you're out combining? Hmm? Well you can with the new John Deere 612FC folding 12-row corn head. That, along with S Series Combine improvements, were on display during this week's product reveal for ag media. I talked about the changes to John Deere's Todd Verheecke.

John Deere is making some significant improvements starting with the workhorse of its grain harvesting equipment – the S-Series Combine. Internally, customers will notice a 12 percent larger cleaning sieve and a new shoe drive system with a beefed up, wider belt with double the tensile strength and durability.
In shoe-limited conditions this new Dyna-Flow™ Plus cleaning system increases combine capacity up to 10 percent in corn and 13 percent in wheat and canola and reduces tailings as much as 28 percent. The combines are designed with stronger internal bearings, pulleys and support structure for increased durability and uptime.

Along with the updates to the S-Series combines, John Deere is expanding its lineup of 600C Series Corn Heads and updating the 600F HyraFlex Draper Platforms. For the first time, the company is offering a folding 12-row corn head (612FC model). The 612FC can provide productivity of up to 30 acres more per day versus harvesting with a traditional eight-row corn head and six more acres per day versus a traditional 12-row while reducing operating costs by 15 percent. And John Deere is equipping all 600C corn heads with an improved row unit slip clutch and drive shaft interface for longer life when harvesting today's more robust hybrids.
For soybean and small grain producers, the company has taken many of the features unique to the recently introduced 645FD and built them into other models of HydraFlex Drapers, including the 630FD, 635FD and 640FD. These features include new streamlined end dividers that reduce grain loss and crop knock down; a wider center-feed section that increases material feeding by 15 percent to better match combine capacity; and 30 percent stronger reel fingers for greater durability and improved crop pickup.

You can listen to my interview with Todd here to learn more: [wpaudio url="http://traffic.libsyn.com/zimmcomm/jd-reveal-15-verheecke.mp3″ text="Todd Verheecke, John Deere"]