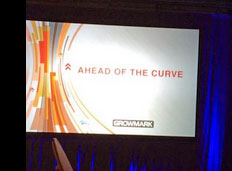 At the GROWMARK annual meeting in Chicago last week, CEO Jim Spradlin reported the estimated year-end financial results for the cooperative to stakeholders in attendance.
For fiscal year 2015, the unaudited, estimated sales for GROWMARK are reported to be $8.8 billion with pretax income is estimated at $140 million. An estimated $61 million in patronage refunds will be returned to GROWMARK member cooperatives and farmer-owners.
"We remain committed to foundational principles that honor the wisdom and direction of our founders. We are focused on the future, and the sustainability of our System, and as a result, we must constantly pursue excellence in all we do," said Spradlin.
Energy, Agronomy, and Retail Grain Units all achieved business growth and recorded earnings above expectations, while the retail supplies group performance was slowed due to a softening Ag economy and plenty of weather-related challenges this summer.
GROWMARK's Seed Division reported sales exceeding 4.7 million acres in 2015 with total net income for the Seed Division expected to be the second best on record. Sales volume for the Plant Food Division, now known as the Crop Nutrients Division, will exceed 3.2 million tons, the fifth consecutive year of record volume. And the Grain Division, which announced a new Retail Grain Partnership being formed in Northern Illinois, generated $19 million in income in FY2015.