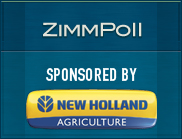 Our latest ZimmPoll asked the question, "Who's your pick now for GOP candidate?"
When you have nearly 20 GOP candidates, you are bound to have many opinions. Our latest ZimmPoll proves that, but one opinion was clear. Donald Trump took the majority of the votes. The rest were scattered. Candidates from both sides had the opportunity to speak at the Iowa State Fair's Soapbox, but I believe it's too early to form a strong opinion.
Here are the poll results:
Jeb Bush – 7%
Ben Carson – 10%
Chris Christie – 4%
Ted Cruz – 5%
Mark Everson – 0%
Carly Fiorina – 8%
Jim Gilmore – 2%
Lindsey Graham – 1%
Mike Huckabee – 5%
Bobby Jindal – 2%
John Kasich – 9%
George Pataki – 1%
Rand Paul – 0%
Rick Perry – 1%
Marco Rubio – 6%
Rick Santorum – 1%
Donald Trump – 30%
Scott Walker – 6%
Other – 2%
Our new ZimmPoll is now live and asks the question, How are farm equipment sales this year?
It's Farm Progress Show time again where all the latest equipment and technology will be on display for farmers to think about buying. But with crop prices lower this year, the question is, will they? Whether you are a buyer, a seller or just an observer – let us know what you think.