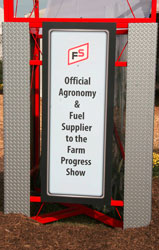 GROWMARK and the FS System always go all out when the Farm Progress Show is held in their home state of Illinois and this year will be no exception.
GROWMARK Marketing and Communications Manager Beverly Long says GROWMARK has a presence at the Farm Progress Show on behalf of the FS System retailers in Illinois, Iowa, Wisconsin and in Ontario and they are directly involved with the show on several levels, one being the agronomic sponsorship where FS donates all the product for the demonstration acres at the show. "We supply all the seed, fertility, plant health and crop protection on the approximately 385 acres," Long explains, noting that the corn for the harvest demonstrations was planted April 15 and looked good despite all the rain that the state had in May and June.
In addition, FS is the official fuel provider for the all the equipment used for the demonstrations. "Dieselex Gold is inside the tanks of all of those engines," said Long.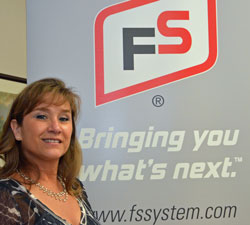 Besides providing the inputs and fuel to make the show happen, Long says they will have lots of fun and games at their exhibit. "We're going to be celebrating the bounty of ag by inviting our guests to turn their fun into food for hungry kids, seniors, and everybody in between," said Long. For everyone who plays the "Farm Finder" game, FS will donate a dollar to Feeding America, No Kid Hungry, and Meals on Wheels. "By the end of the three days, we hope that we can donate up to $15,000 to those three organizations," Long added.
GROWMARK and FS will also be celebrating the 50th anniversary of the Hi-Soy brand by announcing the winners of their Golden Sweepstakes.
Learn more about what GROWMARK and FS will be doing at next week's Farm Progress Show in Decatur in this interview, and make sure to stop by their exhibit, have some fun and help feed some hungry folks! [wpaudio url="http://traffic.libsyn.com/zimmcomm/growmark-long.mp3″ text="Interview with GROWMARK's Beverly Long on FPS 2015 plans"]