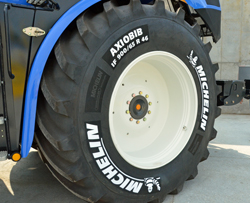 According to Michelin Agriculture has earned the 2015 "Best Supplier Award," a prestigious recognition from CNH Industrial, a global leader in the areas of agricultural machinery, construction equipment, commercial vehicles and powertrain technology. Michelin is the first tire manufacturer to receive the award.

CNH Industrial evaluates its major suppliers through key performance criteria such as relationship, quality, supply chain and reliability. The program promotes continuous and mutual improvement to reinforce sustainable partnership.
"Michelin Agriculture teams are proud to receive this recognition. It is the result of a strong collaboration with our partner CNH Industrial," said Emmanuel Ladent, group director of Michelin's agriculture division, who accepted the award in a recent ceremony. "We take care to focus our energy and know-how on our customer. The trust reflected by CNH Industrial through this award is an honor for all of us."

New Holland Agriculture, a CNH Industrial brand, chose MICHELIN® tires with Ultraflex technologies, to fit its agricultural machines exhibited at EXPO Milano 2015 as well as at the Energy Independent farm "La Bellota" in Italy.