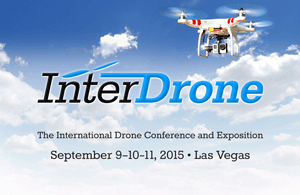 Here's an update on the upcoming first ever International Drone Conference and Expo – InterDrone. Carl Berndtson, Business Development Consultant, BZ Media, wants to first remind everyone that the early-bird deadline for a big registration discount is August 21. If you register before August 21 use the discount code FLYIT on a 3 day pass for an extra discount courtesy of AgWired and if you just need a day pass use the discount code EXPO. An added incentive to attend is the CTIA Super Mobility 2015 Show which is a short express shuttle ride away from Interdrone. It's "phones meets drones" time and the CTIA Show is huge.
To date there are 75 exhibiting companies at Interdrone with more expected. There are attendees registered from 45 states and 30 countries already. Some special events include the InterDrone Film Festival, drones in agriculture Summit, the "Hangar" for drone startups, a Yes Fly Zone for demos, Women-In-Drones luncheon and panel, and lots more! At least 3,000 attendees are expected.
On the speaker side of the program panels these panels have just been announced "Leading VCs Discuss Next Wave or Drone Innovation" and "Ways to Fund Your Drone Business."
Ryan Mac, staff writer at Forbes, will lead the VC panel. Miles Clements of Accel, Anjney Midha of Kleiner Perkins, David Lam of WestSummit Capital, and Dave Famolari of Verizon Ventures, will join Mac to discuss cutting-edge drone innovations and future market-driving technologies.
"The Ways to Fund Your Drone" panel is lead by Frederic Lardinois, a writer at TechCrunch. The panelists include Matthew Bieschke, of UAS America Fund and NEXA Capital Partners, Clements of Accel, and Susan Mac Cormac, of Morrison & Foerster. These experts will discuss the many ways of securing funding as well as the different approaches that are available.