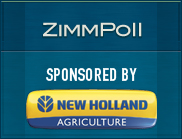 Our latest ZimmPoll asked the question, "What brings you to the county, regional or state fair?"
People all across the country are flocking to their local, regional and/or state fairs. It looks like tradition topped out lasted poll as to why many attend. But exhibiting livestock and a fair corn dog were runners up. Whatever your reasoning for going, we can all agree fairs are all centered around agriculture.
Here are the poll results:
Food – 18%
Exhibit livestock – 22%
Carnival – 0%
Just the experience – 17%
Tradition – 35%
Concerts – 4%
Other – 4%
Our new ZimmPoll is now live and asks the question, Who's your pick now for GOP candidate?
The Republican field for president is crowded but since the debate on Fox some are starting to stand out. This week most of them will be on the soapbox at the Iowa State Fair. Who stands out for you at this time?