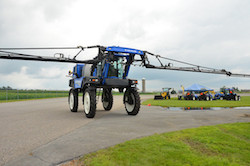 Sprayers at New Holland Agriculture fall under the specialty products division along with grape harvesters. During New Holland's Media Days, members of the trade media received a hands-on learning experience to grasp all the specs on their line of sprayers.
The advantages of a front mount boom are many. With a front boom, you get the best of all views and never need to turn in your seat to monitor spraying action. Nozzles are located behind the boom, so you have a complete, unrestricted view of every nozzle. Spray is delivered into the crop before the tires go over it, eliminating the potential for dust to neutralize the spray.

Watch Chuck's video to learn more about the sprayers tank capacity, boom construction and more.