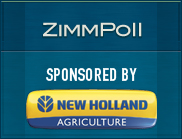 Our latest ZimmPoll asked the question, "How are you connecting your precision equipment and data?"
It looks like many of our readers haven't quite adopted the wireless capabilities when it come to connecting precision equipment. It looks like the majority of you are utilizing memory cards and USB sticks. However, after attending the 2015 InfoAg Conference the Cloud is here and it looks like it is the key to efficiency.
Here are the poll results:
Memory cards – 33%
USB sticks – 33%
Cloud (wifi)- 1%
Cellular network – 17%
Other – 16%
Our new ZimmPoll is now live and asks the question, What brings you to the county, regional or state fair?
We are in the heat of fair season. Whether its a county, regional or state fair it is easy to find one to attend. I have exhibited livestock at fairs my entire life and I hope to instill my love for the fair life into my daughter very soon. Some people go for the food, the great concerts, to exhibit their livestock or to simply take in all the sights. Tell us why you love the fair. Is it for the overall experience or is it the craving of a footlong corn dog?