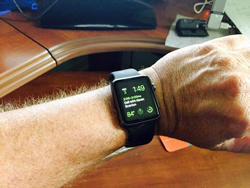 I've finally had a chance to put some thoughts in writing about my ZimmWatch (Apple Watch). AgNerds have been bugging me to get it done. I'll be interested to see if it is a discussion point at next week's InfoAg Conference.
I've been wearing it for over a month now. I've traveled with it and worn it throughout the day to see how much I would use it, how I would use it and if I would like it and recommend it. As an AgNerd I bought my Watch feeling excited to get the latest wearable tech from one of my favorite companies. One word describes my feeling now – Disappointed. I expected something more than what I've got.
Things I Don't Like
I have a watch that does a lot of things that a regular watch can't do but those are all things I can do with my phone while having a better experience doing so. For example, I check the weather a lot. I have the Weather Channel app on my iPhone and my Watch. When I want to check the weather I use my iPhone with one hand. To use my Watch to check weather I either have to use two hands or hope Siri understands me. Neither of those options are good. Siri is okay at times but not when I'm sitting in a presentation or having a discussion. Additionally, the Watch version of the app doesn't have all the features of the full app for my iPhone. This is true of a lot of apps for the Watch. Apps like USA Today take a long time to load and sync too.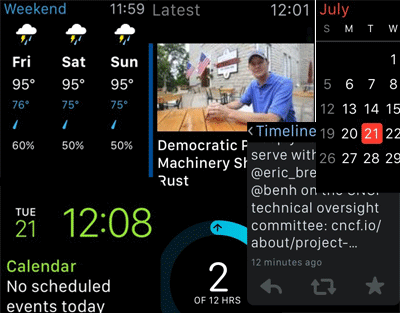 When I glance at my Watch to see the time I have to move my hand/wrist to a certain position for the screen to turn on. So, if I'm carrying something and can't roll my wrist correctly I can't see the time even though I can see the face of the Watch. This is very annoying.
Answering or making a phone call on my Watch was interesting the first time. But it's just not practical. It is very awkward holding your wrist to your face. People look at you funny too.
I thought the ability to have my airline boarding pass on my Watch would be a really useful feature. Not right now. For one thing, I have to put my Delta boarding passes into the Passbook app and then have it transferred to the Passbook app on my Watch. It should be easier than that. Last time I flew United I couldn't get electronic boarding passes at all. Then the next issue is at the airport. The Watch boarding pass only works well on a scanner that faces up. If it's a down facing scanner with limited space underneath I can't fit my hand/wrist and Watch underneath it so it can read the pass.
The Watch depends heavily on a connection to my iPhone. If I walk too far away from my phone I basically just have a watch. And finally, it is a watch I have to charge every day or every other day depending on how much I use it. I like my Citizen Eco-Drive Perpetual Calendar Chronograph which never needs to be charged and I can always see the time.
Things I Do Like
I'm not disappointed about everything though. So far, the best feature of the Watch is notifications. I can see my texts, FB messages, Snapchat alerts, Delta flight updates and who is calling. Then I can decide if it is worth pulling my phone out of my pocket while I'm in the middle of some activity and don't want to get the phone out. This is very useful IMO. However, I don't think it is enough to make me want to recommend the Watch to anyone just yet.
I guess I have to address some of the health/fitness features. I set my Watch to remind me to stand up every hour for example. It is annoying but serves the purpose of making me think about how long I've been sitting. I really didn't use much else in this category because I either bike or do elliptical machines and like my Fitbit, Watch doesn't recognize that type of activity. I believe this is an area that will see quite a bit of expansion in the future.
Pros:
Notifications on your wrist (a good feature for an ag app?)
Battery lasts longer than expected
Growing list of apps in the store
Very comfortable to wear (I am using sport band)
Looks good
Cons:
Having to use two hands even if it's just to use scroll wheel to zoom in/out
Some apps aren't ready for prime time
Not waterproof
More dangerous to use while driving than phone
Recommendation:
I'd wait on this product. Wait until new versions come out and a lot more apps have been built or developed to provide meaningful functionality, especially in the agriculture industry.