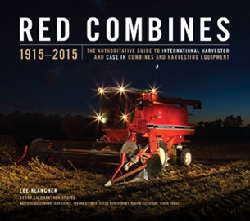 A new book recounts the glories of International Harvester and Case IH equipment. Octane Press says the book, "Red Combines 1915–2015," comes out this September and chronicles the complete story of the most significant piece of farm equipment built in the 20th century.
The 384-page coffee table book is also a tribute to the people who invented the machine that helped shaped the farm as we know it today. Recounting the combine's remarkable evolution, the book captures behind-the-scenes drama and clandestine encounters with rival companies, personnel and machines. Starting with research conducted by a rogue Swedish engineer in the 1950s and continued by a group of dedicated engineers who did their work in a top-secret garage, the book details how extensive research and development allowed International Harvester (IH) to build a new machine that took the market by storm.
Red Combines 1915–2015 includes detailed accounts by a host of authors and researchers, alongside more than 300 archival images, concept drawings, sketches, and new photography depicting the machines and men at work today. The six-pound volume is the result of dozens of interviews with engineers, salespeople, and customers — all under the direction of Lee Klancher, who serves as the project's lead author and photo editor.
Klancher has overseen the development of some of the most-respected and best-selling books in the transportation niche, including Red Tractors 1958–2013, which has sold 16,000 copies and was the recipient of a "Gold" Benjamin Franklin Award and "Bronze" Independent Book Publisher Award.