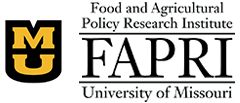 A new report from the Food and Agricultural Policy Research Institute at the University of Missouri (FAPRI-MU) shows how many farmers are using Agricultural Risk Coverage (ARC) and Price Loss Coverage (PLC) plans from the U.S. Department of Agriculture. Highlights from the report, titled, "U.S. crop program fiscal costs: Revised estimates with updated participation information," include:
· The FAPRI-MU baseline anticipated that most corn and soybean producers would elect ARC, because average ARC payments were projected to exceed PLC payments for those crops. Election results show that even more corn and soybean producers chose ARC than had been expected.
· For wheat, we expected a more even split, with 60 percent choosing PLC, given a closer balance of projected payments. Instead, a narrow majority chose ARC.
· As expected, given projected payments, the vast majority of long grain rice and peanut producers chose PLC, as did smaller majorities of sorghum and barley producers.
· The reallocation of base acreage resulted in more base acres for corn, rice and peanuts, crops that have larger projected ARC or PLC payments than most other crops.
Based on this new information, FAPRI expects increased outlays associated with the 2014 and 2015 crops, especially for corn. In 2017 and 2018, outlays are expected to drop.