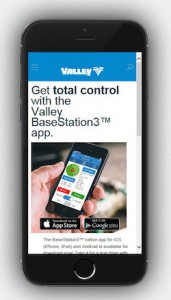 Companies seeking to meet the need of today's growers are breaking into mobile tools for smartphones.  As farm management depends more and more on technology Valley Irrigation, The Leader in Precision Irrigation, is providing a new mobile website.
The new site, m.valleyirrigation.com or simply www.valleyirrigation.com, provides the same benefits of the full Valley Irrigation website, but now in a mobile-friendly format. The fully responsive website adapts to all mobile devices.
"Growers can now get everything they might need at the tip of their fingers," said Global Digital Marketing Manager Kelly Cox. "This site features a modern design and is on par with the most current mobile website technology."
From the site farmers can access owners' manuals, brochures, videos, news, information on all Valley products and much more.
"Our mobile site can provide whatever information growers need, no matter how they are looking for it and regardless of what device they are using," Cox said.