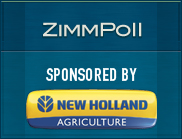 Our latest ZimmPoll asked the question, "What should Congress do about COOL?"
Those who chimed in for our recent poll on Country of Origin Labeling (COOL) seem to be leaning towards the creation of a generic North American label. Followed closely by a voluntary program or a repeal for meat products. What will Congress do?…time will tell. Listen to comments from Sec. Vilsack, Senator Jon Tester (D-MT) and the House Ag Committee press conference here.
Here are the poll results:
Repeal for meat products – 15%
Make program voluntary – 21%
Create generic North American label – 36%
Delay action as long as possible – 0%
Ignore it – 14%
Other – 14%
Our new ZimmPoll is now live and asks the question, What fuels your grill?
Many parts of the country are still experiencing mild temps or overly wet conditions. But that doesn't stop many from pulling out their grills to kick off the summer months. What's your go to grilling method?