In a very short amount of time the Farmers Business Network (FBN) has not only registered a lot of farmers as members but also millions of acres. This means there is a big and growing amount of data in the system.
In this week's ZimmCast you can listen to Charles Baron, co-founder, talk about what the Farmers Business Network has been created to do. He also talks about the recent $15 million in funding the company has received, led by Google Ventures. The company has caught the eye of some serious Silicon Valley investment! Charles is pictured below.
FBN intends to use the new funding to grow its platform nationally and work with more farmers. "Farmers have been advising each other for thousands of years. FBN gives them a platform to do so with real information on a massive scale, so they can make the most informed decisions," said FBN Co-Founder Charles Baron. "This funding will allow us to reach even more farmers in more crops, so they can make the best decisions for their land." Charles says they're holding a series of launch parties across the corn belt right now to introduce themselves to more farmers.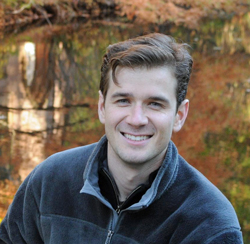 A unique element of FBN is the independent nature of their network which provides data from real farmers solely for member use and their advisors. Right now the network has been focused on the midwest but with expansion plans it will soon be coast to coast and perhaps in the future, worldwide.
One FBN member says:
"FBN is exactly what I was looking for," said Steve Pitstick, a farmer in Maple Park, IL. "It gives me the ability to see information from top producers on so many more acres so I can learn quicker and make decisions with more confidence."
Here's what FBN members get:
advanced analytics
comprehensive yield benchmarking
real world seed performance
matching on over 490 varieties
practice analytics and more
FBN can integrate over 35 different formats of farm data. They will clean and standardize it and then network thousands of fields together. In just six months, FBN has analyzed 7 million acres of data in the United States, and has been growing at 30% per month.
Farmers can become a member of FBN by registering online for a simple $500 annual fee.
Learn more about Farmers Business Network in this week's program: [wpaudio url="http://www.zimmcomm.biz/zimmcast/zimmcast476-5-28-15.mp3″ text="Farmers Business Network"]