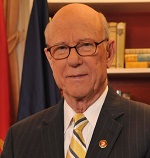 EPA and the Army Corps of Engineers may have released its final Waters of the U.S. rule this week, but Congress is still intends to try and have the final word on the regulation.
Senate Agriculture Committee Chairman Pat Roberts (R-KS) calls the final rule "bad for rural America" and brought up charges that EPA influenced the comment process through social media. "A major news story raises serious questions about EPA's role and actions during the public comment period to garner support for the proposed rule," said Roberts. "EPA not only stacked the deck against farmers and ranchers, it ignored them." [wpaudio url="http://www.zimmcomm.biz/government/wotus-roberts.mp3″ text="Sen. Pat Roberts on WOTUS rule"]
Sen. Roberts was among a bi-partisan group of senators who recently introduced the Federal Water Quality Protection Act requiring EPA to "go back to the drawing board and restart the rulemaking process to include stakeholders – especially agriculture."
Bill co-sponsor Sen. John Barrasso (R-WY) said Wednesday he intend to push forward with the bill. "Today's action ensures further momentum for our bill that says yes to clean water – and no to extreme bureaucracy," said Barrasso.
U.S. House has already passed a bill to block the proposal from going into effect and other efforts are continuing to stop it through agency appropriations.