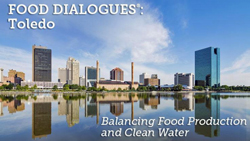 Last year's toxic algae bloom in Lake Erie at Toledo, Ohio, that left half a million people without clean water, underscored the delicate balance that exists between farming and drinking supplies. So it's no wonder the U.S. Farmers & Ranchers Alliance (USFRA) chose Toldeo as the site for the next Food Dialogues on Thursday, May 28, starting at 9 a.m. ET.
"Issues for water are so regional, whether you are talking about California drought, issues with ground water or surface water," explains USFRA CEO Randy Krotz, adding Toledo's plight brought worldwide attention and shined a light on the need for abundant food and clean water. "Both of those issues farmers and ranchers couldn't be more committed to."
The Toledo Food Dialogues will have two panels – one talking about what happened on Lake Erie and the other discussing how to balance the food and water equation. Krotz says they invited scientists, activists, ag producers and other stakeholders to give voice to the many sides of the issue. "We try to have all sides of a topic covered."
This session is sponsored by USFRA, the Ohio Farm Bureau, and several ag groups in the state. If you can't make it to Toledo in person, you can catch a livestream of the event at the Food Dialogues website or through the Ohio Farm Bureau website.
[wpaudio url="http://www.zimmcomm.biz/usfra/usfra-toledo.mp3″ text="Interview with USFRA CEO Randy Krotz on Toledo Food Dialogues"]