AgNerd's everywhere, rejoice! You will soon have an app to use when you get your new Apple Watch thanks to AgWorld.
Agworld, a leading global information management and cloud collaboration software for growers and consultants, announced that it is developing an app for the Apple Watch in response to the growing demand for a new breed of field-ready, connected apps. I spoke with Zach Sheely, Agworld, about their plans for this new wearable technology in a special ZimmCast edition of the AgNerd Cloud.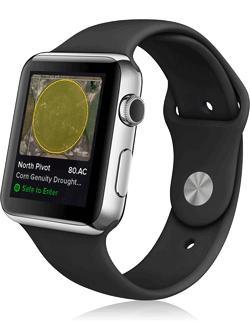 Agworld's centralized software platform, available as web, iPad and iPhone apps, allows for real-time collaboration and management of critical information, activities and recommendations throughout the crop production cycle – in field, where it matters most.
Agworld's Apple watch app will be an extension of the platform's key functionality in order to deliver contextual information at a glance. This includes:

Field data
· Agronomic snapshot and crop history of the current field you're standing in
· Financial snapshot for users who have permission to view farm financials
Project Management
· Notifications when your agronomist has sent you a new field recommendation or when your applicator has just completed a job
Safety and compliance
· Know whether your field is safe to enter and clear for harvest

"Since launching the industry's first iPad ag app in 2011, we've been focused on delivering the mobile technology farmers need infield." said Zachary Sheely, VP Sales and Operations Agworld. "The Apple Watch app, like all of our products, is grounded on an understanding that farming happens in the field, not in the office, where critical data is needed to underpin smarter, infield decisions."

You can sign up for early access to Agworld's Apple Watch App here.
Learn more about Agworld and their pending Apple Watch App in this week's program: [wpaudio url="http://www.zimmcomm.biz/zimmcast/zimmcast474-5-12-15.mp3″ text="Agworld Apple Watch App"]