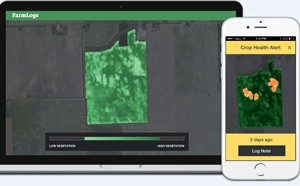 FarmLogs has released a program designed to help growers identify the exact location of crop issues.  The field satellite system alerts farmers to potential problems without layers of mapping that need interpretation, but rather pinpoints a precise location in a field.
"Today we are breaking ground by launching our most valuable feature ever. FarmLogs users now have access to high-resolution in-season maps that guide them to exact locations of problems in their fields," said Jesse Vollmar, CEO and co-founder of FarmLogs. "We are completely changing the game for farmers by sending alerts anytime their fields are at risk of losing yield."
Imagine a small area in a corn field that is under stress or beginning to develop a pest issue not yet detectable to the human eye – FarmLogs will show farmers this exact location on an easy-to-read map and the FarmLogs mobile app will guide them to the precise location indicated by the alert via GPS saving farmers hours of scouting and preventing yield loss.