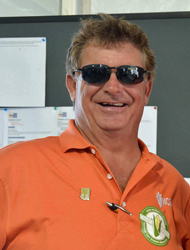 Corn farmers made planting progress last week that was unimaginable even just a decade ago.
Martin Barbre, Chairman of the National Corn Growers Association, says he is close to 75% planted on his farm in Carmi, Illinois. "We've got guys all the way from 50 percent to 100 percent done," he said. "Things are really rolling good."
Barbre adds that the latest precision farming technology helps farmers take advantage of the weather windows when they happen quickly. "We have better control of what we're putting in the ground as far as seed population and seed depth," he said. "A lot of it is the simple size of the equipment we use but if you didn't have the technology you couldn't handle the bigger equipment."
Not only does the technology help farmers be more efficient, but Barbre says it makes them more sustainable as well. "It lets us keep track of where our nutrient levels are in the soils better, how we manage the soil," he said.
Listen to my interview with Martin here: [wpaudio url="http://www.zimmcomm.biz/ncga/barbre-5-5-15.mp3″ text="Interview with NCGA Chairman Martin Barbre of Illinois"]