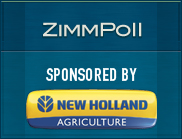 Our latest ZimmPoll asked the question, "Which potential presidential candidate would be best for ag?"
Of the 12 potential presidential candidates included in our poll, only one has officially declared. But two hopefuls have risen to the top of our poll. It seems many believe Hillary Clinton and Scott Walker might have the best interest of agriculture in mind, if elected.
Here are the poll results:
Joe Biden – 3%
Jeb Bush – 11%
Ben Carson – 5%
Chris Christie – 1%
Hillary Clinton – 22%
Ted Cruz – 7%
Mike Huckabee – 13%
Rand Paul – 4%
Rick Perry – 2%
Marco Rubio – 3%
Scott Walker – 19%
Elizabeth Warren – 10%
Our new ZimmPoll is now live and asks the question, What is best for GMO labeling?
Agricultural organizations are voicing support for the bi-partisan Safe and Accurate Food Labeling Act introduced in the U.S. House recently. What do you think is best when it comes to the labeling of GMO's? Should it be mandatory or voluntary? Should it include all foods? Should states decide? Let us know your opinion.