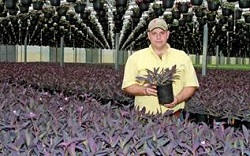 A new survey shows that young farmers are still worried about getting adequate land to grow crops and raise animals. This news release from the American Farm Bureau Federation says the group's annual outlook survey of participants in the Young Farmers & Ranchers program found that 29 percent of respondents were concerned about that issue, followed by government regulations, which was identified by 13 percent of the respondents.
"For young people who want to begin farming or ranching or expand an established farm or ranch, securing adequate land remains their top challenge," said Jon Hegeman, AFBF's national YF&R Committee chair and a farmer from Alabama. "Another major challenge is coping with burdensome government regulations."
Other issues ranked as top concerns by young farmers and ranchers included the willingness of parents to turn over the reins, 10 percent; overall profitability, 10 percent; taxes and the availability of water, both 7 percent; and urbanization and the availability of ag financing, each coming in at 5 percent.
The 23rd annual YF&R survey revealed that 84 percent of those surveyed are more optimistic about farming and ranching than they were five years ago. Last year, 91 percent of those surveyed said they were more optimistic about farming compared to five years ago.
That optimism in farming also showed with 92 percent of the nation's young farmers and ranchers say they are better off than they were five years ago, and another 91 percent considering themselves lifetime farmers, while 97 percent would like to see their children follow in their footsteps.
Three-fourths of those surveyed also consider communicating with consumers a formal part of their jobs, using social media and traditional outreach methods, such as farm tours, agri-tourism and farmers' markets, to get that done.