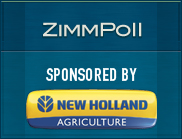 Our latest ZimmPoll asked the question, "Should Congress grant TPA?"
As Congress still considers granting Trade Promotion Authority (TPA) to our President, we asked what you thought on the issue. It looks like an easy majority believe it should be granted, however there are still a few in agricultural circles that question it. Hopefully, we will soon have a decision from Congress.
Here are the poll results:
Yes – 75%
No – 19%
Don't care – 6%
Our new ZimmPoll is now live and asks the question, Which potential presidential candidate would be best for ag?
Earlier this week we gave you highlights from the first Iowa Ag Summit. The event featured nine possible GOP presidential candidates as they shared their opinion on agricultural issues to the national media. Of the presidential hopefuls, who do you think will be best for agriculture?