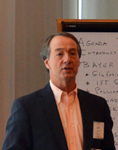 Bayer CropScience's Alan Ayers will head the new board of directors for the Conservation Technology Information Center (CTIC). CTIC made the announcement, along with announcing Lara Moody of The Fertilizer Institute as vice-chair and Terry Tindall of the J.R. Simplot Company being named treasurer.
"It's exciting to work with such a dedicated board to continue building CTIC as a preferred source of information on technologies that help keep farmers economically and environmentally sustainable," says Ayers.
"The strength of this board comes from its members' commitment to advocating for conservation agriculture, as well as their diversity," he adds. "For more than 30 years, CTIC has brought together people from across the agriculture industry, academic institutions, environmental groups, media and government agencies to share information on productive, profitable conservation systems. This board will continue that proud legacy, building strong partnerships that help farmers and the environment."
"Alan has been a dedicated and active member of the CTIC board for years, and will be an outstanding leader," says Karen A. Scanlon, CTIC's executive director. "He's a great example of the dedicated, hard-working people who make CTIC such a wonderful and effective organization."
In addition, Pauley Bradley of John Deere will be an officer on the CTIC board as a Past Chair.