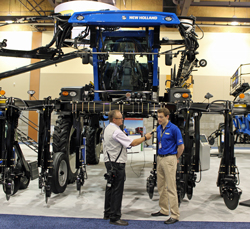 New Holland has introduced the Guardian™ Injection Toolbar to the Guardian self-propelled sprayer line. The new piece of equipment was on display at the 2015 Commodity Classic and Chuck stopped by to chat with New Holland's Jason Hardy to learn more about it's capabilities.
The Guardian™ Injection Toolbar applies the liquid fertilizer exactly where the crop needs it most. Farmers don't have to worry about burning and can keep efficiency at their finger tips.
"It has been well received so far. We are getting a lot of interest and I think our customers and dealers are going to appreciate it's ability to add a little more nitrogen when the crop needs it."
The toolbar can be mounted on all Guardian Series front-boom sprayers equipped with the Quick-Attach system, which is available as a factory option or as a dealer-installed accessory. The Quick-Attach system allows the operator to quickly switch between the Guardian Injection Toolbar and the sprayer boom.
"This is the first time we have had the opportunity to show this with our customers. There will be a lot more information to follow so stay tuned because we are really excited about this new product launch."
Jason said they hope to have the Guardian™ Injection Toolbar ready to sell in the marketplace in just a few months. Listen to Chuck's complete interview with him to learn more: [wpaudio url="http://www.zimmcomm.biz/commodity-classic/classic-15-nh-hardy.mp3″ text="Interview with New Holland's Jason Hardy"]
Photos from the event can be found here: 2015 Commodity Classic Photo Album