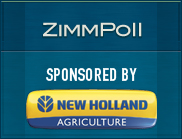 Our latest ZimmPoll asked the question, "What do you think of proposed government control over the internet?"
It has been called net neutrality or open internet but now it should be called government controlled internet. In a vote along partisan lines the FCC last Thursday passed sweeping changes in how it will be regulating the internet. Basically, they are treating it like the telephone system using some very out of date laws. The goal is to provide more "equality" for users. How this plays out is anyone's guess. Estimates have been made that the cost of the new regulations will include losing 500,000 jobs and $62 billion over the next five years. Wonder who will pay that and what they will allow. This 317 page move pushed by the Obama Administration has already caused uncertainty for investors in new technology.
It will be interesting to see what impact this has on American agribusiness in coming years.
Here are the poll results:
Agree – 25%
Disagree – 73%
Don't know – 2%
Our new ZimmPoll is now live and asks the question, Should Congress grant TPA?
Congress is considering granting Trade Promotion Authority (TPA), formally known as Fast Track, to move forward on trade agreements being negotiated in Europe and Asia. Every president since Franklin Roosevelt has been given this authority to negotiate agreements that can just be voted up or down by Congress, but there is opposition even in agricultural circles to granting TPA or even pursuing new free trade agreements. What do you think?