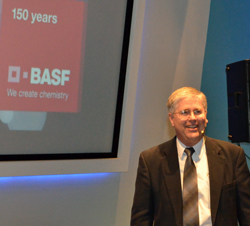 As it does every year, the weather will play a major role in the price for corn and soybeans in the future. Market analyst Arlan Suderman of Water Street Solutions gave some of his thoughts on price points for the grains in the coming year during the BASF Science Behind media event last week in Phoenix.
His models show favorable, above normal temperatures for this season, which would most likely push up the yields for corn and soybeans and push down their prices.
"If we get the weather and acreage I expect for corn, we'll see corn prices in the mid-$3 range," with the low possibility of above-trend yields possibly pushing corn to the low $3 range. Arlen said soybeans are expected to yield about the same, and could see prices in the low $9 range, with the risk of big stocks pushing those prices all the way down to $6 beans–devastating for a lot of operations.
As far as managing the risks corn and soybean farmers face in these market fluctuations, Arlen applauded what BASF is doing to help producers.
"I'm glad to see them recognize the situations farmers are in," he said. "To help share the risk is a win-win for both sides. [Farmers] need to have a smart plan of risk management, and that comes down to your marketing and partnering, and what BASF is offering allows farmers [to better manage the risks and market their crops to their best advantage]."
[wpaudio url="http://www.zimmcomm.biz/basf/basf-science15-arlan.MP3″ text="Interview with Arlan Suderman, Water Street Solutions"]
2015 Commodity Classic Photo Album

2015 BASF Science Behind Photos