Innovative wearable technology company TekWear, LLC, finished third among 10 finalists at VilCap USA: Agriculture 2014, an entrepreneurial funding program. TekWear was chosen from more than 60 other start-up companies to take part in the three-month program devoted to finding, developing or marketing innovative products and services that provide solutions to agricultural and food production challenges.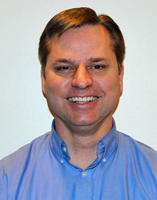 "We were thrilled to participate in the VilCap program where we received top-level business consulting and mentorship," says Bruce Rasa, CEO and founder of TekWear. "We're very pleased with the entire program and the long-term benefits it will provide our business."
TekWear is a leading developer of apps for wireless wearable devices for use in production agriculture and the food industry, providing tools that allow the capture of insights on-the-go, thereby improving safety and efficiency in the field. The company has a patent-pending wearable dashboard system that allows users to remotely monitor animals, scout for multiple crops in fields, obtain machinery support and complete a range of other essential food production tasks.
Gold star intern Taylor Truckey caught up with Bruce at the Commodity Classic last week where she talked with him about what is new with TekWear. [wpaudio url="http://www.zimmcomm.biz/commodity-classic/classic15-rasa.mp3″ text="Interview with Bruce Rasa, TekWear"]