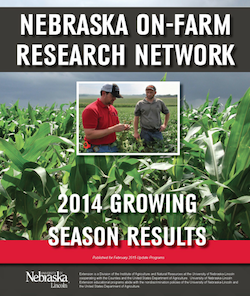 The Nebraska On-Farm Research Network continues to grow and this year the program expanded to include three update meetings with over 250 in attendance. Growers and educators discussed results from over 75 on-farm research studies. A number of topics were covered: cover crops, foliar fungicides, growth promoters, harvest methods, seed treatments, foliar micro-nutrients, planting operations, corn and soybean planting populations, variable rate seeding and more.
Results from the 2014 growing season have been published and can be downloaded online.
Planning for 2015 projects are already underway. If you are interested in conducting an on-farm research study contact the Nebraska On-Farm Research Network.
Nebraska On-Farm Research Network has been working with Nebraska's producers for 26 years to address critical production, profitability, and natural resources questions.