John Deere sponsored an ag policy panel at the 2015 Commodity Classic, moderated by our friend Sara Wyant with Agri-Pulse, and featuring the policy specialists from the American Farm Bureau Federation (AFBF) and National Farmers Union (NFU).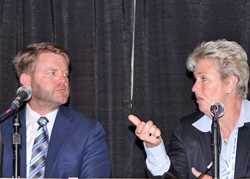 Among the issues NFU's Chandler Goule and AFBF's Mary Kay Thatcher discussed was EPA's pending Waters of the U.S. proposal
"Waters of the U.S. is by far the biggest issue we face right now," said Thatcher. "It would be wonderful if we could simply eliminate this rule but EPA administrator McCarthy intends to finalize the rule in April so it will them be up to us to get to Congress and make it a little less objectionable."
Goule says NFU went to EPA with the rest of agriculture to participate in the rulemaking. "We submitted over 15 pages of comments, we told them what a ditch is," he said. "But the theory of just ditch the rule is going to leave uncertainty."
Thatcher and Goule addressed a number of other issues, such as farm bill implementation, trade, and the Renewable Fuel Standard, and our intrepid intern Taylor Truckey interviewed both of them after the panel about their viewpoints.
[wpaudio url="http://www.zimmcomm.biz/commodity-classic/classic15-deere-afbf.mp3″ text="Classic15 Interview with Mary Kay Thatcher, AFBF"] [wpaudio url="http://www.zimmcomm.biz/commodity-classic/classic15-deere-nfu.mp3″ text="Classic15 Interview with Chandler Goule, NFU"]