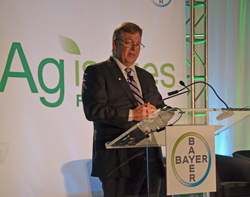 The 10th Annual Ag Issues Forum (AIF), conducted by Bayer CropScience, is underway in advance of this year's Commodity Classic in Phoenix. First speaker was Jim Blome, President/CEO, Bayer CropScience LP, who talked a little bit about his farm background and challenged attendees to get local though leaders out on a farm to help them better understand where their food comes from.
"If someone sits down to a meal, they're part of the food system," said Blome. "Conversations about agriculture have been happening without key contributors from our industry for far too long. Events like Ag Issues Forum foster the kinds of conversations so needed between those who work across agriculture and the people who consume the food they help produce. We can learn a lot from each other."
Presenters and topics at the two-day event include Michael Rogers, futurist and author; former U.S. Rep. Thomas Latham; Jason Brown, former NFL player-turned-farmer; Bill Hohenstein, director of the Climate Change Program Office, U.S. Department of Agriculture; Robert Colangelo, founder of Green Sense, a large-scale vertical farm; Danielle Nierenberg, president of Food Tank, a nonprofit dedicated to building a global community for safe, healthy, nourished eaters; and Mae C. Jemison, M.D., the first African-American female astronaut and science literacy advocate for Bayer's award-winning Making Science Make Sense® program.
Listen to Jim's remarks, discussion with AIF host Frank Sesno, and answering questions from ag media: [wpaudio url="http://www.zimmcomm.biz/bayer/aif-15-blome-remarks.mp3″ text="Jim Blome, Bayer CropScience, Remarks"]