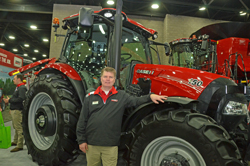 Case IH has added a few new products to their lineup this year and Chuck caught up with David Bogan, Case IH, during the 2015 National Farm Machinery Show (NFMS) to learn more about their Maxxum tractors.
"As we have moved into the 2015 calendar year we have had to meet those new EPA standards for this horsepower range tractor. This tractor is equipped with the Tier 4 B technology and the Final SCR-only technology that is exclusive to our brand. This means we only treat the emissions after combustion within the exhaust."
"As you look at this tractor you can see that the styling has changed. It has a very bold, aggressive new look. A new roof cap as well that has LED lightings that are now standard. You can light up the night just like the day."
The Maxxum tractors were publicly launched during the Cattlemen's Industry Conference earlier in February, but if you missed them there and at NFMS I am sure you will see at next week's Commodity Classic.
David suggests farmers and ranchers dig a little bit deeper into the specifications on these tractors to see if it will fit their operations needs. Listen to Chuck's complete interview with David here: [wpaudio url="http://www.zimmcomm.biz/nfms/nfms-15-case-maxxum.mp3″ text="Interview with David Bogan, Case IH"]
Find photos from the event here: 2015 National Farm Machinery Show Photo Album