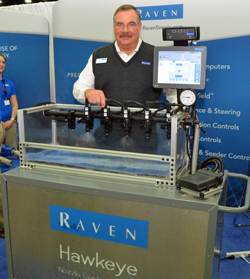 One of the products our friends at Raven were featuring at the National Farm Machinery Show was their Hawkeye Nozzle Control System. Chuck spoke with Raven's Gary Esselink about what sets this sprayer apart from others on the market.
"The Raven Hawkeye is a sprayer system where we maintain constant pressure through application. One of the things that is becoming a big issue with farmers and applicators these days is the ability to maintain a consistent spray pattern throughout the field. The best way to do that is to maintain your pressure."
Gary said another nice thing about this product is the ISO product controller that controls all functions of the Raven system. The Hawkeye Nozzel Control is compatible with AGCO, Case, Miller and Apache sprayers.
Learn more about Raven's sprayer system in Chuck's complete interview with Gary at NFMS here: [wpaudio url="http://www.zimmcomm.biz/nfms/nfms-15-raven-esselink.mp3″ text="Interview with Gary Esselink, Raven"]
Find photos from the event here: 2015 National Farm Machinery Show Photo Album