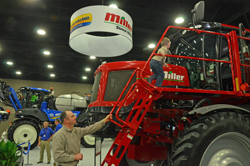 A big announcement came at the end of 2014 when New Holland announced their purchase of Miller. Brands have remained separate, but the duo shared booth space at the recent National Farm Machinery Show (NFMS). Miller had a number of equipment on display and Chuck spoke with Brett Reis to learn more about their product offerings.
"We've got a Miller 5000 series 5250, which is our new tier 4 final machine and we also have our Miller Condor GC75. That is our largest model in the mechanical drive machine."
If you missed Miller at NFMS, you can catch them next week at the 2015 Commodity Classic in Phoenix, AZ.
Learn more about Miller's line of sprayers in Chuck's complete interview with Brett here: [wpaudio url="http://www.zimmcomm.biz/nfms/nfms-15-nh-miller.mp3″ text="Interview with Brett Reis, Miller"]