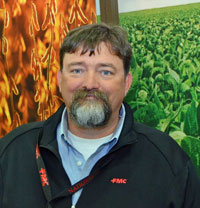 FMC Corporation has designed a new infographic to help answer some of the FAQs about how pre-emergence herbicides fit in with best stewardship practices.
"Basically what we're trying to do is educate farmers on the use of some of the older tools we've had in our tool box and not used for a long time," said FMC Technical Business Manger David Wheeler at the National Farm Machinery Show last week. "We're trying to get growers to take a look 12 months ahead of the application and 12 months behind the application so we maximize our weed control for maximum production and manage resistance issues and avoid overusing a single active ingredient or mode of action."
Wheeler says they recommend applying a pre-emergence herbicide to provide extended weed control and reduce the weed seed bank. "Waterhemp or pigweed species can have up to a million seeds per plant and if we let one of those go we can have problems for years to come," he said.
Listen to my interview with David here and check out the infographic to learn more: [wpaudio url="http://www.zimmcomm.biz/nfms/nfms15-fmc-david.mp3″ text="Interview with David Wheeler, FMC"]