As we've seen in two big announcements this week alone, Eco Agro Resources, which was founded in 2013, is on a fast-paced growth curve. I talked with Andrew Semple, President/CEO, about how his company is having so much success.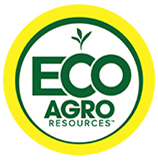 By the way, Eco Agro Resources' home office is located in my hometown of Sarasota, FL, although they already have offices around the country and the world. I hope to stop by for a visit later this spring.
Andrew says the company was started by a group of experienced ag industry individuals who share a common goal which is "a passion to feed the world." Their products are geared to making food production more efficient in ways to help achieve that goal.
The announcements this week include the fact that Eco Agro Resources is now the exclusive North American marketers of the Ekote line of eco-friendly controlled-release fertilizers by Netherlands-based Ekompany. Additionally, Andrew says they have entered into a partnership with Solvay Novacare to develop market and product portfolio opportunities in North and South America. The partnership is part of larger discussions aimed at leveraging the companies' combined enhanced efficiency fertilizer products (EEFs) for agricultural distributors and customers.
Learn more about Eco Agro Resources in this week's program: [wpaudio url="http://www.zimmcomm.biz/zimmcast/zimmcast465-2-10-15.mp3″ text="Growth of Eco Agro"]