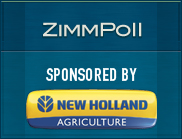 Our latest ZimmPoll asked the question, "Farm & Ranch Magazine compiled a list of the Top 10 Tractors of All Time. Which is your favorite?"
Farm & Ranch Magazine gave us a long list of classic tractors to select from and it is clear we all have our favorites. However, the rising star in our poll was the John Deere Model 4020.
Here are the poll results:
FARMALL Model H – 4%
FORD Model 8N – 11%
FARMALL Model M – 10%
John Deere Model B – 11%
John Deere Model 4020 – 33%
John Deere A – 10%
FARMALL A – 0%
FORD NAA Golden Jubilee – 3%
Allis Chalmers WD-45 – 4%
Allis Chalmers WC – 3%
Other – 10%
Our new ZimmPoll is now live and asks the question, Which crop insurance option will you be choosing?
The new farm bill has been in place a year now and one of the most talked about issues it addresses is crop insurance. As the bill brought about a few changes, many farmers are still in a quandary as to which crop insurance policy will be best for their operation. Have you decided if you will be selecting price loss coverage (PLC) or agriculture risk coverage (ARC)?