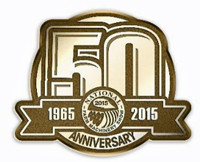 The National Farm Machinery Show (NFMS) will celebrate 50 years of farming this year, starting with a ribbon cutting ceremony at the opening of the show on Wednesday in Louisville.
Kentucky Lt. Governor Crit Luallen, and the daughter of former governor Ned Breathitt, Linda, will perform the ribbon cutting. Gov. Breathitt cut the ribbon to begin the first NFMS in 1966. Charter members who have exhibited at all shows will be honored during an exhibitor reception.
What is now the country's largest indoor farm show grew out of an electricity demonstration and exhibit in Lexington in 1963. Still held at the Kentucky Exposition Center, this year's show Feb. 11-14 will again feature the latest in farming technology and equipment from 860 exhibitors in over 1.2 million square feet of exhibit space. This year's seminar topics include unmanned aerial vehicles, cloud-based data handling and weather and commodity trends.
And carrying on a 47 year tradition this week is the Championship Tractor Pull, sponsored by Syngenta, and held in conjunction with NFMS. Each year 500 teams apply to pull in the prestigious event and 180 are chosen to contend for $250,000 in prize money. This year's teams include all reigning Grand Champions and a record number of women drivers.
We will be bringing you all the latest on what's new here on Precision.AgWired.com, thanks to the generous sponsorship of John Deere. Hope to see you there!