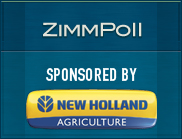 Our latest ZimmPoll asked the question, "What's your favorite Super Bowl party food?"
The XLIX Super Bowl is a wrap and so is our most recent ZimmPoll. Chips and dip topped the charts, but wings were a close second. I couldn't agree more with those who responded to our poll. I love chips and dip of any kind. I have always preferred salty and savory over sweets. Your favorite team may not have won, but let's hope you walked away with a satisfied, full belly.
Here are the poll results:
Chili – 17%
Wings – 24%
Chips & Dip – 27%
Sliders – 3%
Anything with bacon – 18%
Potato Skins – 8%
Hot Dogs – 3%
Our new ZimmPoll is now live and asks the question, Farm & Ranch Living compiled a list of the Top 10 Tractors of All Time. Which is your favorite?
Recently, the Farm & Ranch Living magazine asked their readers to share their favorite tractor of all time. Their compiled list inspired our very own, Leah Guffey, to chat with them about their readers favorite tractors in a recent Hick Chick Chat. Using their list of tractors, we want to know which is your all time favorite.