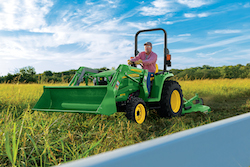 In what has become an annual tradition across the country, hundreds of local John Deere dealerships are again hosting Drive Green Demo Days events. This year's Drive Green events will focus on the tractor buying experience, not only giving guests the opportunity to check out a wide variety of equipment and implements, but also the many different attachments that are available to help them get more from and do more with their equipment.
In addition to featuring a wide selection of John Deere utility tractors, lawn and garden equipment, Gators and other products, Drive Green event attendees may also test drive the latest equipment and compare them with competitive models. They'll also receive special discounts on John Deere equipment and attachments and have a chance to win a John Deere 3032E Compact Utility Tractor with loader and rotary mower package for attending.
This is the seventh consecutive year that Drive Green events have been held by dealers from February through October. These events give residential and rural property owners, farmers and ranchers, commercial landscape and grounds care operators and interested consumers a chance to see firsthand the newest John Deere utility tractors, including the popular 1 Family Sub-Compact, 3E Series and 5E Series Tractors.
According to Steve Geick, tactical marketing manager with John Deere, the Drive Green events have grown to become a popular event for thousands of customers across the United States and Canada over the past several years.
"From the beginning, Drive Green was designed to give customers a complete, positive equipment buying experience where they could test drive the tractors for themselves, get all their questions answered and compare our products to similar competitive models," Geick explains. "Many John Deere dealerships across the country have tied their Drive Green events in with local activities to make them even bigger events for their communities and more interesting and fun for customers."
The theme for this year's Drive Green program is "See it. Drive it. Own it." In addition to learning more about the equipment and attachments, customers who attend receive a $500 coupon that can be applied toward the purchase of a new tractor, as well as special discounts on attachments.
John Deere dealer experts will be on hand at all events to demonstrate the equipment and answer questions. Admission is free and no pre-registration is required to attend.