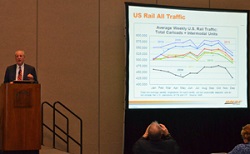 Billions of dollars to improve service on one of the most important railroads for grain producers looks to resolve problems that hurt the grain industry last year. Attendees of the recent American Farm Bureau Federation's 96th Annual Convention and IDEAg Trade Show heard from Greg Guthrie, director of ag products for BNSF, who updated them them on a $5 billion capital investment plan the company announced at the beginning of 2014, which grew to closer to $5.5 billion by the end of the year.
While the grain shipping industry isn't one of BNSF's largest customers, representing only 9 to 10 percent of total business, Guthrie called it one of BNSF's oldest and most valued.
"From a railroad perspective, grain has been an inherent and significant part of our DNA," said Guthrie. "Do you really think we don't want to haul grain? We keep hearing 'you want to haul oil, not grain.' We want to haul everything and we're going do whatever we can to handle that growth because in business if you're not growing, you're dying."
In the last 14 years, BNSF added more than 150 origin locations nationwide. There were 77 BNSF origin destinations in 2000, and in 2014 that number rose to 233. Each station costs $25 million to $30 million to build.
"Our growth [last year] was double the GDP and we woke up one day and realized that we took on 50 percent of all the railroad growth in the United States in one year," Guthrie said.
That growth ended up dramatically spiking the cost to reserve rail cars, so Guthrie said BNSF is adding more grain hopper cars to the pipeline, which will allow the market to decide a fair price for cars.